Getting yourself around any city can be not only intimidating and overwhelming but also super costly. Well, Washington DC is not just any city, it is our Nation's Capital and when it comes to getting around we're pretty jacked here in DC, the streets are pedestrian friendly and there are endless options to choose from. Navigating DC couldn't be easier! When planning your trip, just bear in mind the infamous DC traffic gridlock!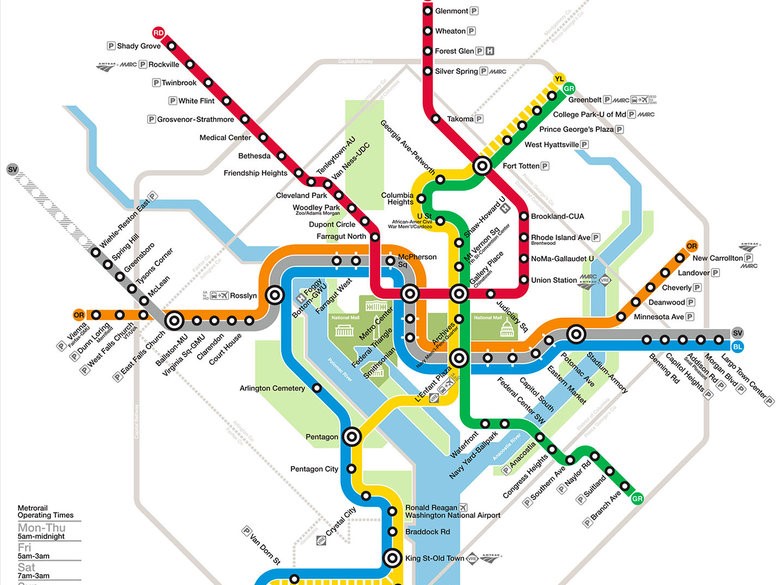 Metro Rail
Washington, DC has one of the safest, cleanest and most efficient transportation systems in the world and Metro Rail is for sure one of the most effective ways to travel, there is no gridlock down there! Operating from 5am to midnight on weekdays and 7am to midnight on weekends, a quick visit to their website allows you to plan your trip, calculate the costs, purchase your SmarTrip card and be on your way. SmarTrip cards can be used for rail, bus and the DC circulator rides and often give a better rate, allow for repeated swiping, are rechargeable and can be purchased at any Metro station, many convenience stores and online. There are six color coded metro lines that will get you to anywhere you need to go, including all the major tourist attractions. Red, Blue, Orange, Yellow, Silver and Green. You'll recognize the stations by the black pole with colored stripes and a M marking, it's easy! Trains usually arrive every 5-6 minutes. At off-peak times, trains come every 12 minutes, while later trains typically arrive every 15-20 minutes. Base fares start around $1.35 for non-peak travel and kids under 4 ride free. Download the free DC Rider mobile app which allows quick access to all the information you need, while you are on the go!
Metro Buses
Metrobus run hundreds of routes throughout the city and the greater Washington DC area, so it if your destination isn't near a metro line you're likely to find a bus route to get you there. A little less user friendly than the Metro rail, but a great way to travel if you prefer to stay above ground. Tip: Try to travel non-peak to avoid the traffic (weekends and weekdays between 9:30am and 4pm and 7-10pm). Swipe your SmarTrip card and you are good to go! If paying cash, have the exact amount as drivers do not carry change.
DC Circulator
The DC Circulator buses are similar to metro buses, operating on six fixed routes running between the city's main attractions and some of the more popular neighborhoods for visitors. At only $1 a ride which you can swipe on your SmarTrip card, it's an easy, popular and affordable way to explore Washington DC. The buses run about every 10 minutes with a dedicated National Mall route on weekends. To get started, pop an address into their interactive map to find the closest routes and bus stops.
Taxis
DC has one of the highest taxi-to-citizen ratios in the country, with more than 6,000 taxis servicing the city. A simple download of the DC Taxi Rider App will get you to where you are going but with DC's notorious traffic you may be able to walk faster!
Uber
How we survived without Uber, I have no idea but they are convenient, safe, affordable and most of the time right around the corner. Thanks to modern technology, a quick tap on your phone and you are ready to explore the city and watch the sights along the way.
Lyft
Lyft comes in right on the tail of Uber, their biggest competition and often more affordable! Same concept, same advantages, simply a different app to download! It's that simple.
Capital Bikeshare
This may seem a little daunting but the roads of DC are logically laid-out and super bike friendly with bike only lanes throughout most DC neighborhoods. It's easy to hop on a bus or jump in a taxi and have someone else lead the way but the adventurous at heart will add even more adventure and excitement to their trip as they explore Washington DC by bike! There are over 350 Capital Bikeshare docking stations throughout the entire city and it really is very simple, pick it up where you choose and drop it off where you choose. That's great news, at least if you get tired you can drop it off and hop on a bus home. The first 30 minutes of each trip is free, with each additional half hour incurring a fee. You can purchase a single trip pass, 24-hour pass or if you're a regular visitor an annual membership is available.
Hop On / Hop Off Trolley Tours
www.trolleytours.com/washington-dc
Speaking of hopping, Trolley Tours are another great way to get to see all the sights and experience the vibe of our Nation's Capital. These tours are a little more expensive starting at $39.95 for a one day fully narrated tour with 25 hop off stops covering 100 points of interest. You're sure to see the best of Washington DC's attractions.
DC Streetcar
Street cars are new to DC and currently only consist of one line, a 2.2-mile stretch along H Street and Benning Road. So, if you're in the area, it's currently still free, bike friendly during non-peak hours, wheelchair accessible and runs every 10-15 minutes. We're hoping more routes will be added quickly as it's a great way to travel DC.
Cruise
Washington DC looks spectacular from the water and a cruise or sightseeing tour along the Potomac River is a fun way to explore our Nation's Capital. The Potomac River Boat Company and Spirit Cruises offer a variety of options from a Monument Cruise, Mount Vernon Cruise, Seaport Cruise or Specialty Cruise. There is even a Canine Cruise!
Driving
Driving in DC can be more hassle than it's worth and the least effective way of navigating our streets. Parking in DC is restricted to residents only with a permit, except on the weekends, not to mention the one-way streets, road closures and endless traffic circles! The public transport is incredible so we highly recommend taking full advantage and not driving around. If you're in town with your car, you'll need to check out the parking at SpotHero.
---
SpotHero is the nations leading parking reservation app to book convenient and affordable parking whether its for an event, commute to work or even airport parking.
Try SpotHero today! You can use SpotHero to park all over D.C. and book a spot with rates up to 50% off drive-up learn more here.
---
Getting Around from DC's Neighborhoods
Bloomingdale
Bloomingdale is a 10- to 15-minute walk to the Shaw-Howard U metro stop on the Green & Yellow lines or 20 minutes to NoMa-Gallaudet U on the Red Line. Buses run frequently along Florida and Rhode Island Avenues and there are many bus lines. The G2 runs from Howard University south to P Street, then west to Georgetown. The G8 runs along Rhode Island Avenue NW and goes into the heart of downtown or up north through Brookland to Woodridge. The 90, 92 and 96 cut along Florida Avenue, making trips down to H Street or up to Woodley Park and the 80 line travels along North Capitol and over to Foggy Bottom. You can also find Capital Bikeshare stations at the corners of R Street and Florida Avenue NW and up at First Street and Rhode Island Avenue NW.
Brookland
Metro's Red Line stops here at the Brookland station. The area is also located just off the Metropolitan Branch biking and walking trail.
Capitol Hill
Within Capitol Hill lies two Orange/Blue/Silver line stops: Eastern Market (next to the year-round, indoor/outdoor local food and art market) and Capitol South. Just a few minutes walk away is Union Station, DC's largest ground transportation hub, with Amtrak and bus stations and a local Red Line Metro stop. Capitol Hill allows for easy driving access in and out of the city, as the neighborhood lies along many of the area's main arteries, including I-695, I-395, I-295 and Route 50.
Columbia Heights
Columbia Heights metro station is 3 miles north of the National Mall (and 1 mile north of U Street). A walker's paradise, very bikeable and a mecca for all transportation, Columbia Heights is serviced by its own Metro station for the Yellow and Green lines. Metro buses run north and south along 14th and 16th Streets and the Circulator bus runs east and west throughout the city.
Downtown Penn Quarter & Chinaton
The closest Metro Stations are Gallery Place/Chinatown and Archives-Navy Memorial. There is some street parking available in the area, but this is a busy part of town in the heart of the city and spaces fill up quickly.
Dupont Circle
Dupont could be the most walkable and bike-friendly neighborhood in the city with easy access to the downtown financial district, Capitol Hill, Georgetown and the 14th and U Street Corridors. Metro's Red Line stop on Dupont Circle makes carless living an easy possibility.
Georgetown
The nearest metro is a fifteen-minute walk away, but you'll find the best way to take in this area is on foot. The Foggy Bottom-GWU Metro station, located on the blue, orange, and silver Metro lines, is a short 15-minute walk from Georgetown. The Rosslyn, Virginia station, also located on the blue, orange, and silver lines, is a short walk across the scenic Key Bridge to Georgetown. Numerous buses provide access to the rest of the city with ease. You are within walking distance of Dupont Circle and The Kennedy Center. A water taxi (with a stop at Washington Harbor) can get you to the National Mall, Old Town Alexandria and National Harbor in a matter of minutes.
Logan Circle
Logan Circle has no metro station, though the U Street and Dupont Circle stops are close by. Logan is just a short half mile walk to every Metro line in the District — Dupont (Red), McPherson Square (Orange/Blue/Silver), U Street (Green/Yellow).
Shaw
Shaw is served by Shaw-Howard University Metro System, nearby U Street and Mount Vernon Square Metro stations. There is a bus service within Shaw, which has several routes that connects the area with the Waterfront and Silver Spring via 7th Street. The G2 bus connects Georgetown University and Howard University.